Zhongshan ALLTOP Lighting Co., Ltd.
E-Mail:ftc@alltoplighting.com
TEL:+86 0760-87567563
Fax:+86 0760-87567569
Address:Fuqing Road 2,Yongxing Industrial Park,Henglan,Zhongshan,Guangdong,P.R.C
Solar passenger electric tricycle
Solar passenger electric tricycle
Model NO. dq2
Accept Min order:No
Product Description
4-6 passengers electric tricycle adult electric Tuk Tuks with solar panels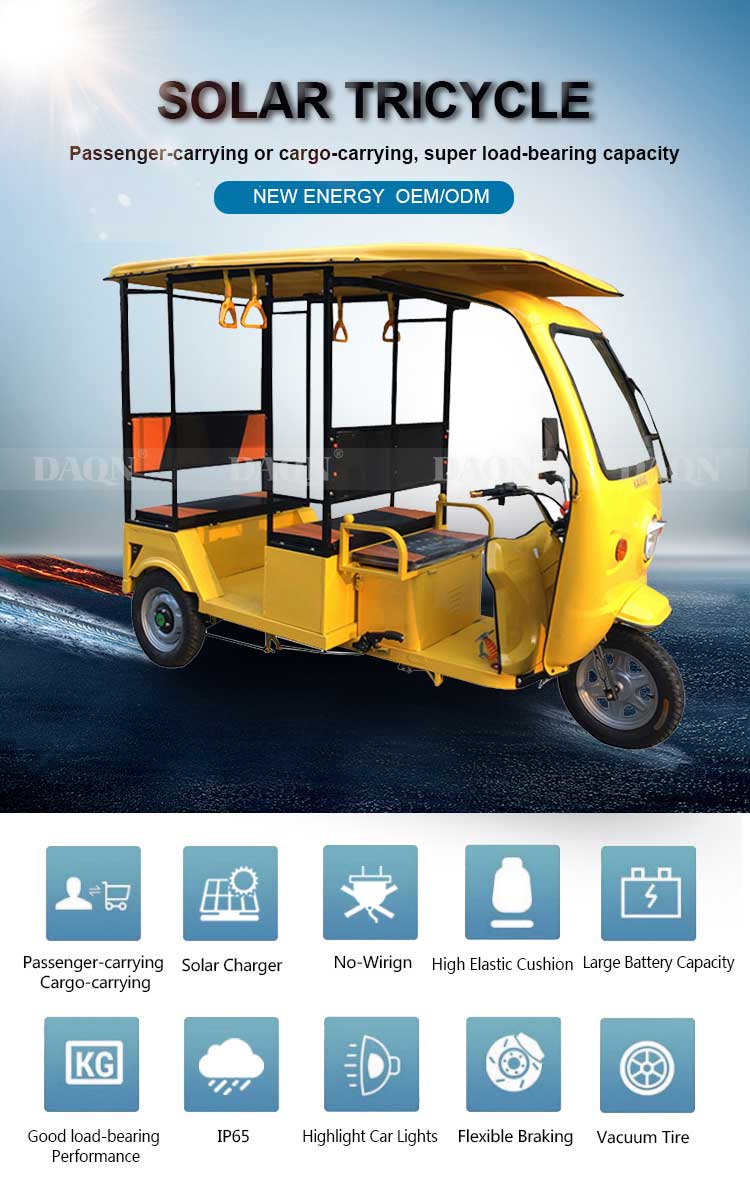 | | |
| --- | --- |
| Whole Size | 2900*1060*2100MM |
| Size of Cargo Box | 1370*1060*2100MM |
| Net Weight | 270kg |
| Loading capacity | 800kg |
| Load peoplr | 4-6 people |
| Packing Weight | 360kg |
| Voltage | 60V |
| Battery | 20Ah,32Ah,38Ah,45Ah,52Ah |
| Motor | 1000W-1200W-1300W |
| Endurance capacity | 45-95km |
| Max Speed | 45-60km/h |
| Floor thickness | 1.2mm |
| Climbing ability | 0-25 Degrees |
Installed solar panel on the roof, electric tricycle scooter.
Main Features :
1) Electric tuk tuk is a pure electric tricycle, easy to operate, very suitable for family use
2) Convenient charging and practicality, can transform vehicles according to customer needs, can be used as taxis, advertising vehicles, etc.
3)It Can carry people and solar electric cargo tricycle , multifunction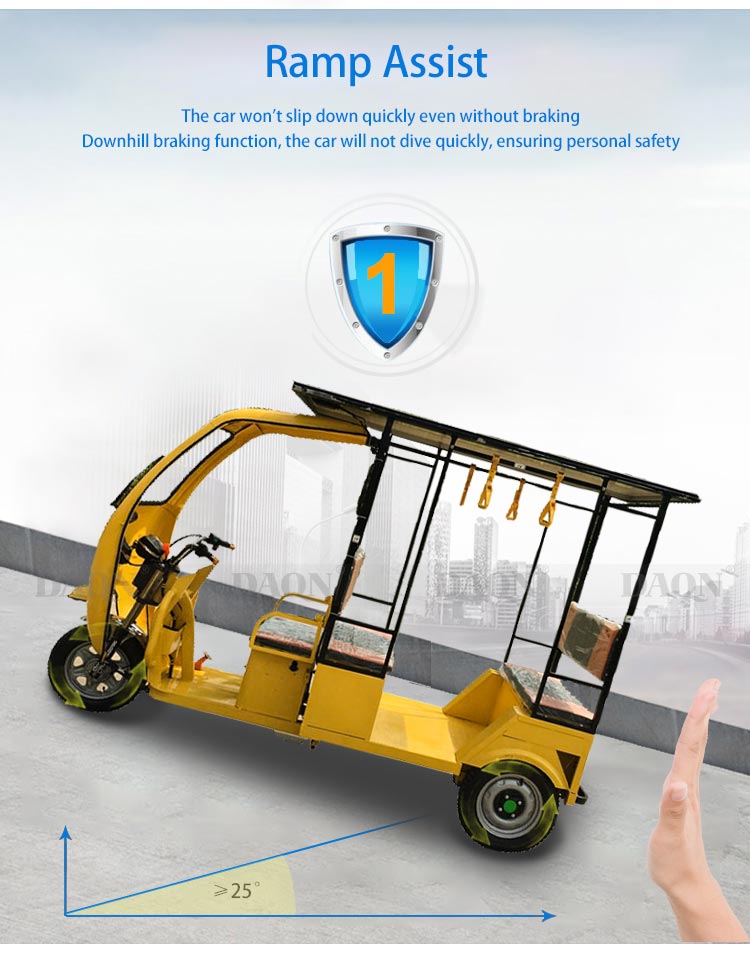 Ramp Assist:
The car won't slip down quickly even without braking
Downhill braking function, the car will not dive quickly, ensuring personal safety
Solar Tricycle Product Information: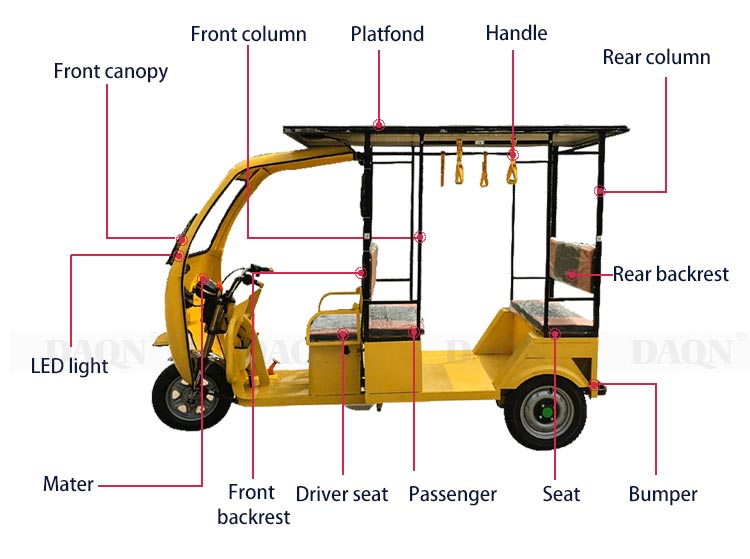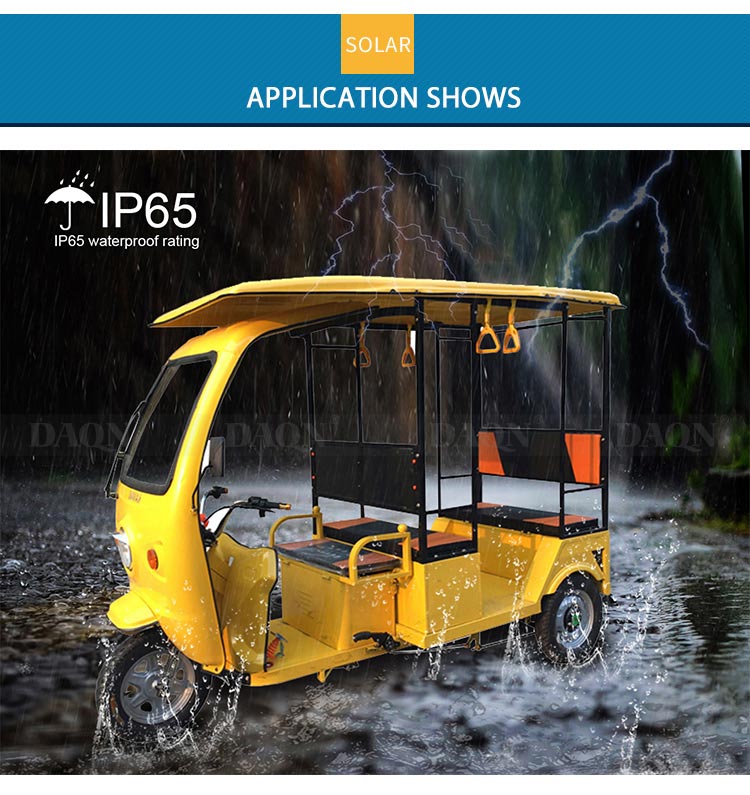 Solar electric tricycle water resistant to IP65, can be fully qualified for all kinds of snow, humidity and other harsh environments, easy to install, long life, maintenance-free, allowing you to use more peace of mind. To remind, this light anti-rain, but not completely immersed in water use.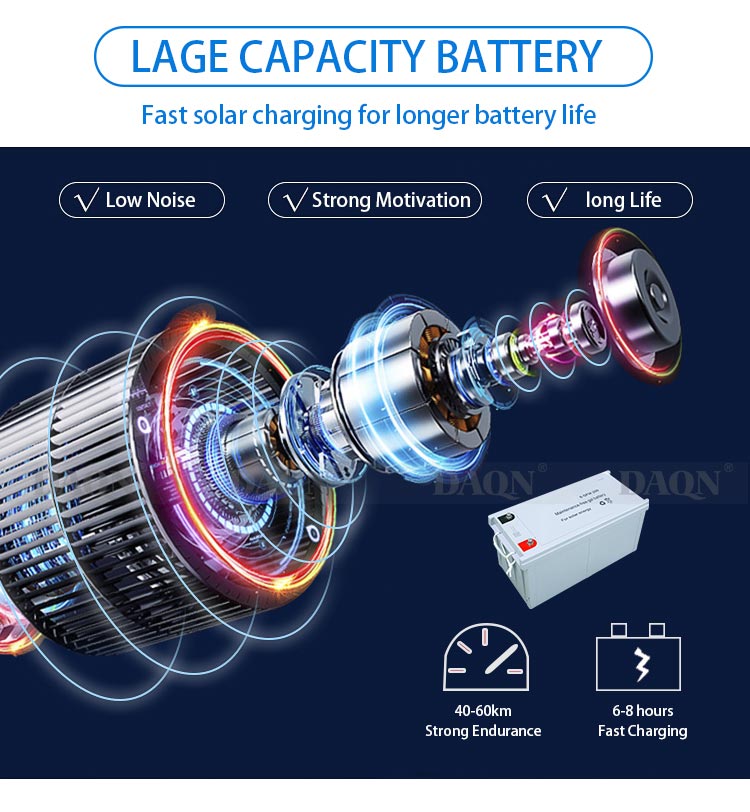 Silicone gel batteries:
Using maintenance-free silicone gel batteries,it has low wastage,good charging capacity,long battery life.The most prominent advantage is doesn't need to undertake any maintenance for using a long time,while ordinary Lead-acid batteries need periodic inject water and add sulfuric acid having a lot of pollution.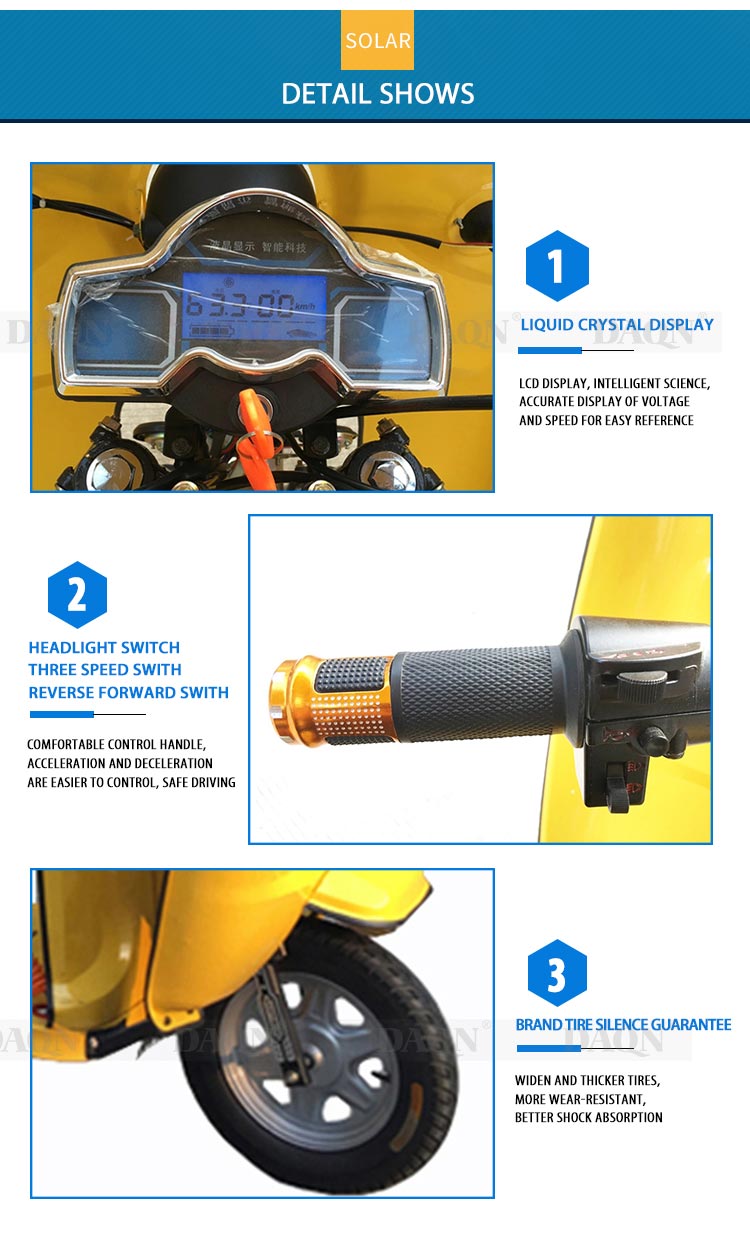 Vacuum tyre
solar tricycles adult tricycle 3 wheel electric for passenger use vacuum tire & aluminum alloy wheel hub (same as automobile tires)
Compared with ordinary tires, vacuum tires are more durable and safer in driving.
LED Head lights
The LED head lights contains 3 LED lamp beads.It is more beautiful and practical.
High elastic cushion
It can avoid vibration before and after, allowing you to drive smoothly
This electric tricycle totally can load 4-6 passenger.
Solar motorcycle electric tricycle Driving Handle
Comfortable control handle, acceleration and deceleration are easier to control, safe driving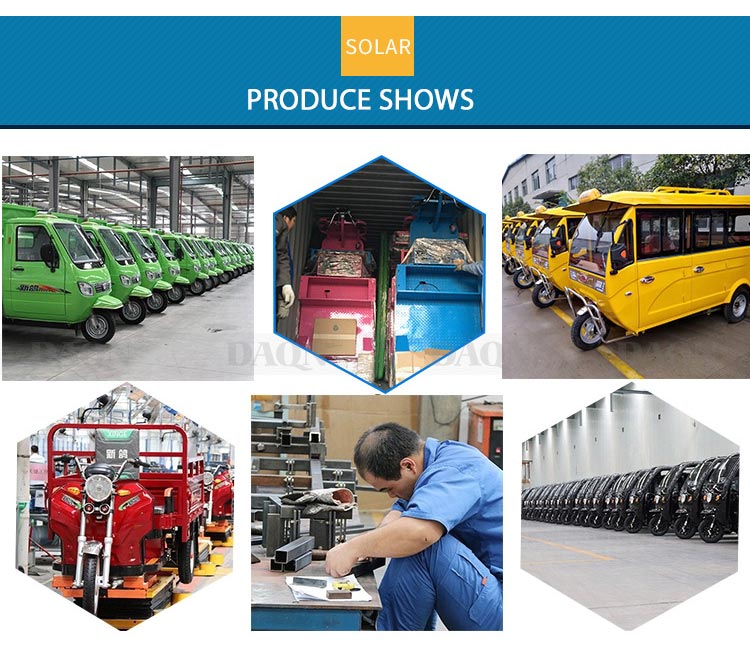 Zhongshan Daqin Electric Co., Ltd. is a company for manufacture and export various electric tricycles & electric car such as enclosed passenger electric tricycles,adults electric tricycle,solar panel electric tricycle rickshaw,tuk tuk tricycle etc.
Till now our electric tricycles have been exported to many countries overword.
Solar electric tricycle is our main product,it is widely used for carry passengers,cargos or for multi-function usage.