Zhongshan ALLTOP Lighting Co., Ltd.
E-Mail:ftc@alltoplighting.com
TEL:+86 0760-87567563
Fax:+86 0760-87567569
Address:Fuqing Road 2,Yongxing Industrial Park,Henglan,Zhongshan,Guangdong,P.R.C
Complete On Grid Off Grid Solar System Solar Energy Kit
Complete On Grid Off Grid Solar System Solar Energy Kit
Model NO.: DQ1204
Accept Min order:No
Product Description
Complete On Grid Off Grid Solar System Solar Energy Kit
The solar system can match or not match the battery configuration. The battery is configured
to form a solar storage microgrid system. When the battery is not configured, it constitutes a
solar microgrid system. The system uses PV energy as a priority. When the energy of the PV is
insufficient, it can be supplemented by city power or battery power. When solar photovoltaic
energy is over-powered, it is stored in the battery, and the photovoltaic power generation is
better utilized to the maximum extent, thereby saving electricity costs.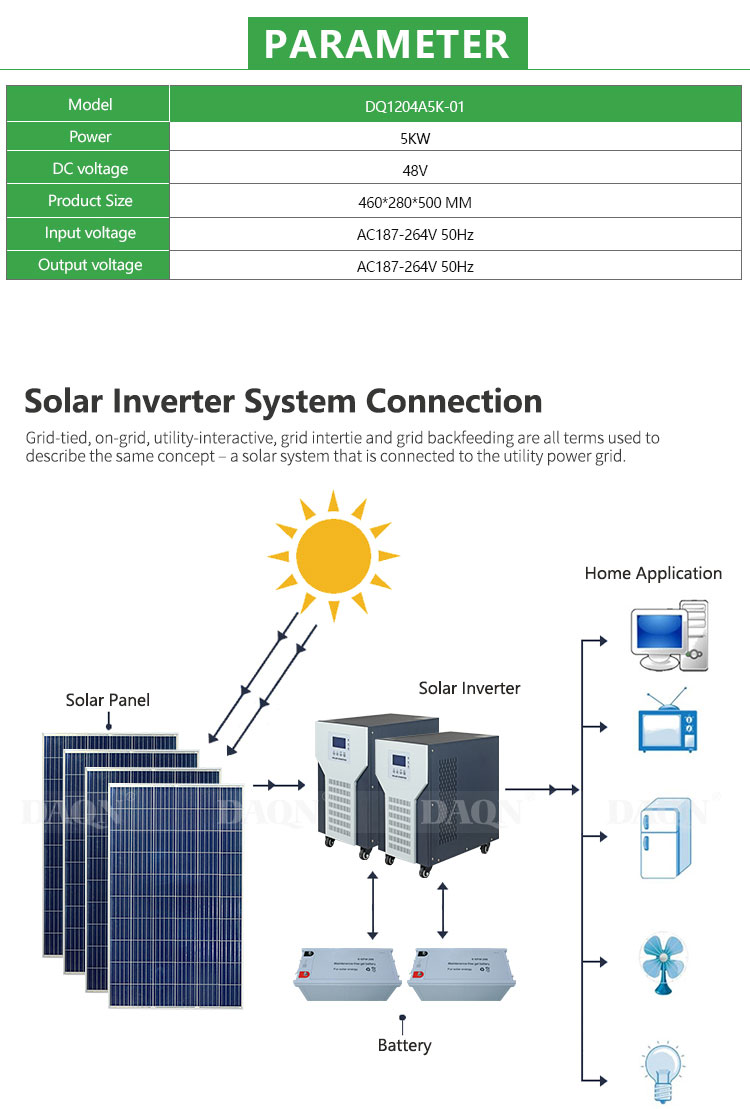 Item No.

DQ1204A3K-01
DQ1204A3K-01
PV Input
Max input voltage
150V
MPPT tracking range
60V-120V
MPPT route number
2
Max input power
1750W/1750W
2750W/2750W
Battery
(Flexible configuration)
Type of battery
Lead-acid battery / Lithium-ion battery
Rated voltage
48V
Max charging current
60A(PV)/10A(Mains)
100A(PV)/20A(Mains)
Adjustable charging current
Adjustable charging current
Float voltage
55.2V
Charge voltage
56.8V
AC Input
Rated voltage
220V/230V
Input voltage range
176V~264V
Rated input frequency
50Hz/60Hz
AC Output
(PV/Battery mode)
Rated output power
3KW
5KW
Rated output voltage
220V/230V
Output voltage accuracy
2%
Rated output frequency
50Hz/60Hz(Auto recognition)
Output frequency accuracy
1%
AC Output
(Mains mode)
Rated output power
3KW
5KW
Output voltage
176V~264V
Output frequency
47~52Hz/57~62Hz
Regular
Parameter
Topology
Transformer isolation
Display
LCD
Ambient temperature
-20℃~60℃(Derating above 45°C)
Relative humidity
0%~95%(No condensation)
Highest altitude
2000m
Machine dimension(L*W*Hmm)
467*280*508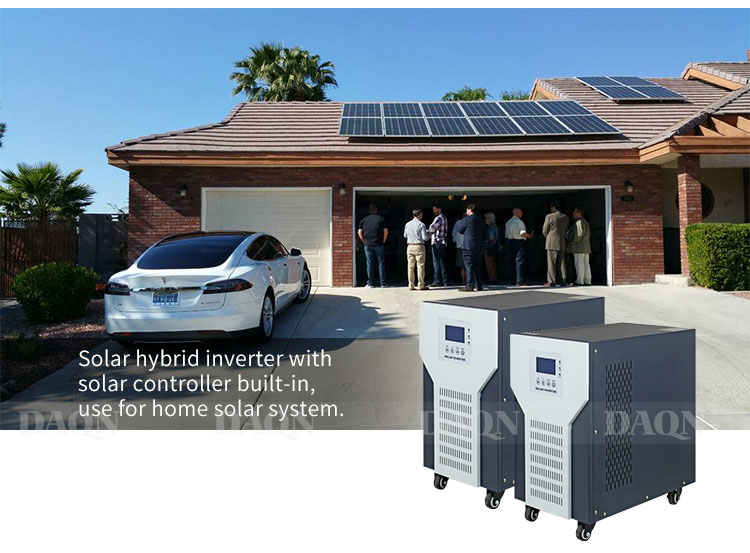 The solar on grid/off grid energy storage inverter is applied to the solar energy storage microgrid system,
which is mainly based on solar photovoltaic energy. When the photovoltaic energy is insufficient, it can
be supplemented with urban electricity or batteries. When the photovoltaic energy is surplus, the battery
is stored or accessed on the grid to maximize the use of photovoltaic power generation for self-use
purposes and additional power consumption. In addition, according to the requirements of different
customers, peak and valley periods can be set to achieve peak-to-peak and valley fill, reduce grid
pressure and maximize revenue. Solar photovoltaic systems are compatible with batteries. In the event
of a grid failure, solar energy can continue to generate electricity and switch to off-grid mode to continue
to supply power to the load.