Zhongshan ALLTOP Lighting Co., Ltd.
E-Mail:ftc@alltoplighting.com
TEL:+86 0760-87567563
Fax:+86 0760-87567569
Address:Fuqing Road 2,Yongxing Industrial Park,Henglan,Zhongshan,Guangdong,P.R.C
Newest Design Price 5kw Three Phase Solar Inverter
Newest Design Price 5kw Three Phase Solar Inverter
Model NO. DQ1202
Accept Min order:No
Product Description
Power Inverter 100KW Pure Sine Wave Inverter DC To AC 12v/24v 110v/220v Solar Panel Inverter
---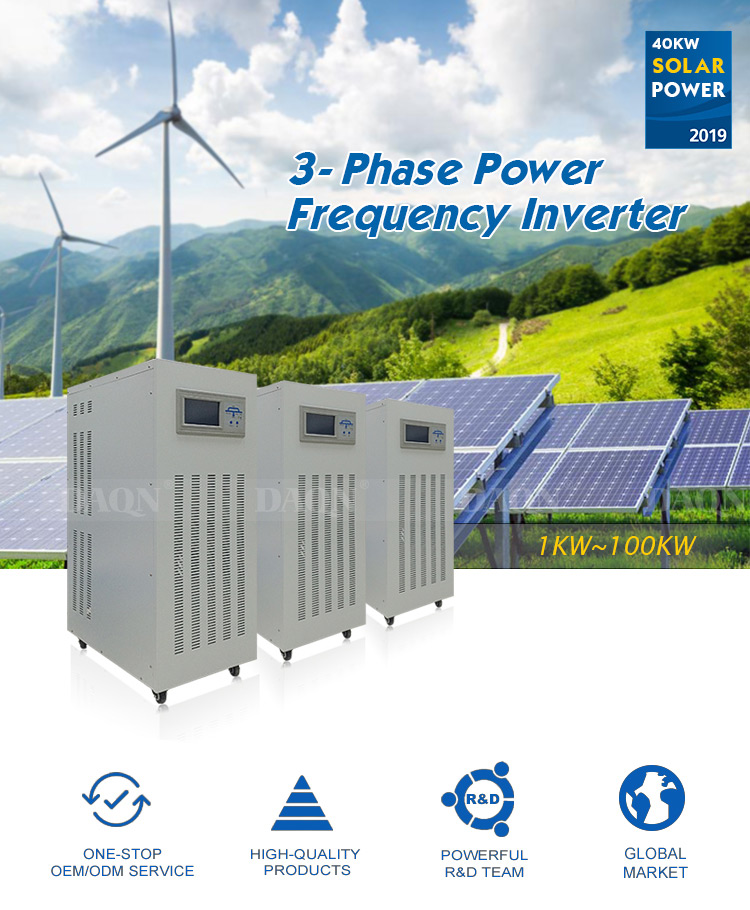 Power Inverter 100KW Pure Sine Wave Inverter
Model
DQ1202C100KW-01
Power
100KW
Power Factor
0.8
Input
Phase
3 phase 4 wire and ground
Voltage Range
380V±20%(3 phase), phase voltage 220V
Frequency Range
45-65Hz
Rectifier
3 phase 6 pulses, 12 pulses is optional
Output
Phase
3 phase 4 wire and ground
Wave form
Pure sine wave
Crest Factor
3:01
Rated Voltage
380/400/415V optional ±1% for static load, 5% forfluctuant load
Phase Voltage setting
200-244VAC, pls confirm when order
Transient Response
±5%,10ms
Frequency
50/60 Hz ±0.05%
Total-harmonic distortion
< 3% linear load, <5%(nonlinear load)
short circuit current
Short current for 0.1s(200% current)
Overload Capacity
Overload 125% for 10 Mins, 125%-150% for 1min, automatically resume when load become normal
Bypass
Type
Static state +manual maintenance bypass
Input Phase
3 phase 4wire and ground
Input Voltage Range
15% - 25% (the front control panel selectable)
Transfer Time
Inverter / bypass transfer switch time(Overload): 0ms inverter / bypass transfer switch time (fault inverter) 1ms
Efficiency
Whole unit
>85%
Inverter
95
Remote Signaling
Dry contact (battery low, battery discharging, bypass / fault); output 12vdc/80mA, Optional parts
Communication Interface
RS232 (SNMP, modem optional)
Running Temperature
0-40 degree Celsius
Relative Humidity
Less than 95% (without condensing)
Noise at 1 M
Less than 60dB
Degree of protection
IP20
Product Size(mm)&Weight(Kg)
560*230*570mm, 30Kg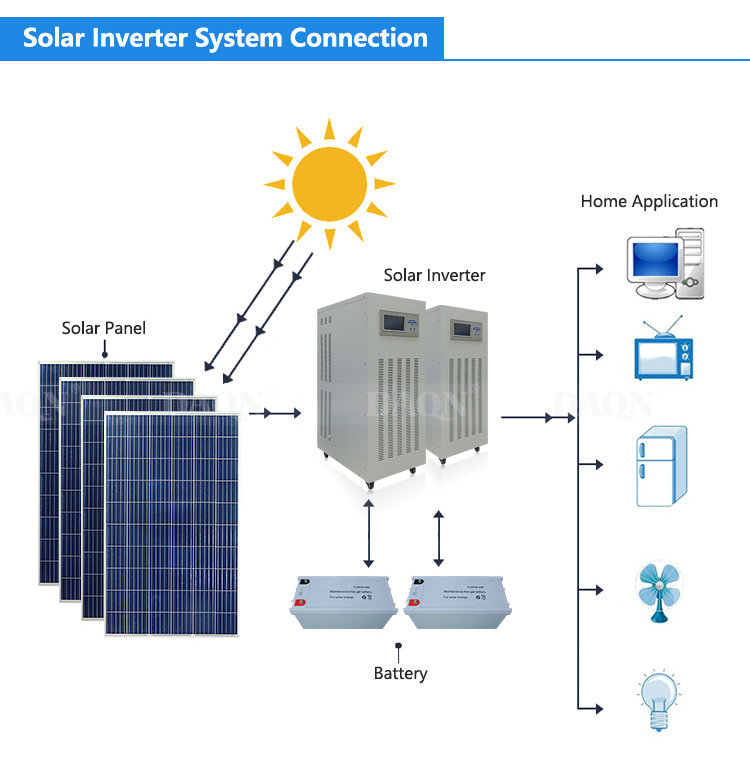 Using High Quality Material
1. With AC reactor (Protect against city power current shock)
2. Double protection. (Two fuses, including the city power security and battery power security)
3. Thyristorcharging. (The thyristor charging current is larger than charging board one.The thyristor charging current could reach to 40-50a while the charging board is only 10a-15a)
4. IGBT converter. (High 95% transfer efficiency and strong anti-loading shock capacity)
5. AC filter capacitor.( Have stabilizing voltage function and pure sine wave output)
6. Under normal working condition when taking the loads, the machine can run as usual even when cut out the battery power.(Strong capacity for anti-shock, stable function)
7. The Chinese/English language operation interface for choice.
8. Touching display
9. IGBT brand: Mitsubishi (import from Japan)
Thyristor charging brand: Simon Kang Brand(import from German)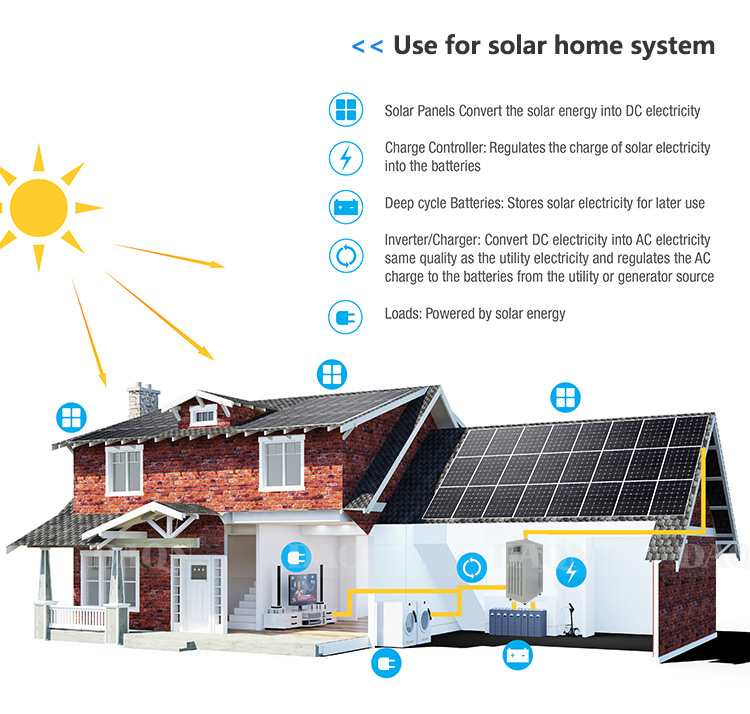 Designed and manufactured according to new energy generating system, off grid inverter is the core component of photovoltaic power generating system. It converts DC to AC mainly used in the fields of PV power plant, wind power plant, wind solar oil storage complementary power generating system and solar home system. High efficiency and superior performance can guarantee absolute stability.It is suitable for areas without electricity like mountain, pastoral, border and island.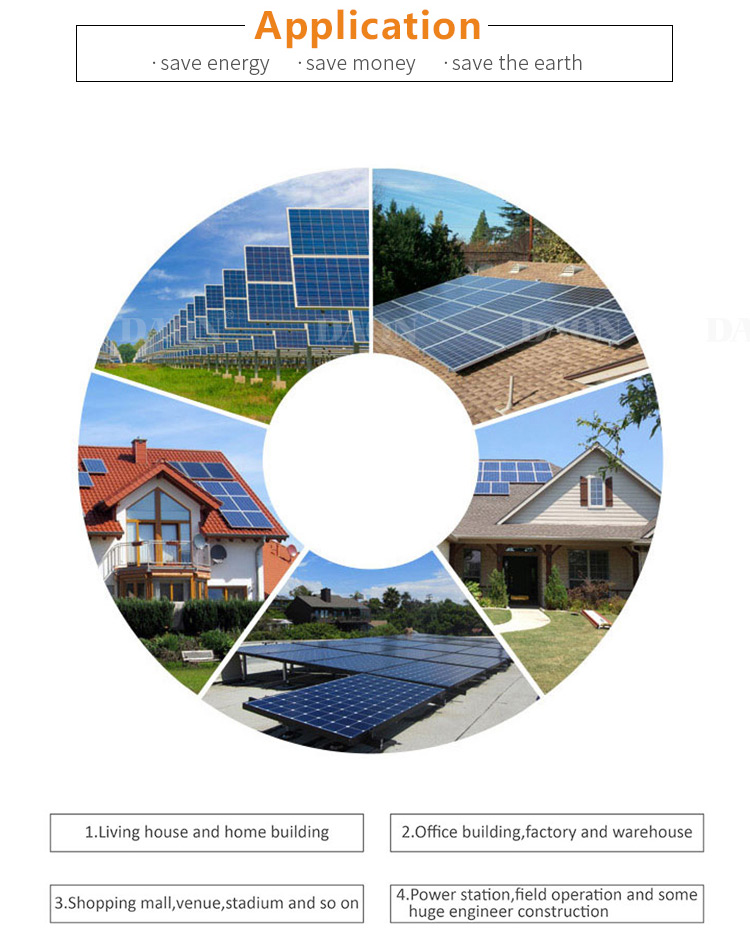 Contact us
FAQ
1.Q: Are you trading company or manufacturer ?
A: We are factory, welcome to visit our factory at any time.
2. Q: Do you have a catalogue? Can you send me the catalogue to have a check of all your products?
A: Yes , We have product catalogue.Please contact us on line or send an Email to sending the catalogue.
3. Q: Can you provide samples ? Are the samples free ?
A: Yes,we can provide samples.Normally,we provide samples for test or quality checking.But you have to pay for the sample and shipping cost.

4. Q: What kind of payment do you accept ? Can I pay RMB ?
A: We accept T/T(Wire transfer),Western Union and Paypal. Please be sure that we can receive the same amount of the Invoice. And you can pay money In RMB. No problem."
5. Q : What about your delivery time?
A: We have a lot of products in stock.We can send the stock products in 3 work days. If without stock,or stock is not enough, we will check the delivery time with you."
6. Q : How to ship my order ? Is it safe?
A: For small package, we will send it by Express, such as DHL,FedEx,,UPS,TNT,EMS.
7. Do you have any certifications for your products?
A: We have ISO9001:2000, CE, RoHS, certifications for all of our products.