Light+Building 2020
25-02-2020
2020 Frankfurt International Lighting and Building Technology and Equipment Exhibition
Exhibition Name : Light+Building 2020
Exhibition Address : Exhibition Centre Frankfurt
Exhibition Time : 2020.03.08 -2020.03.13
Exhibitor Name : ZHONGSHAN ALLTOP LIGHTING CO.,LTD
Hall NO. : 10.2
Booth No. : C75C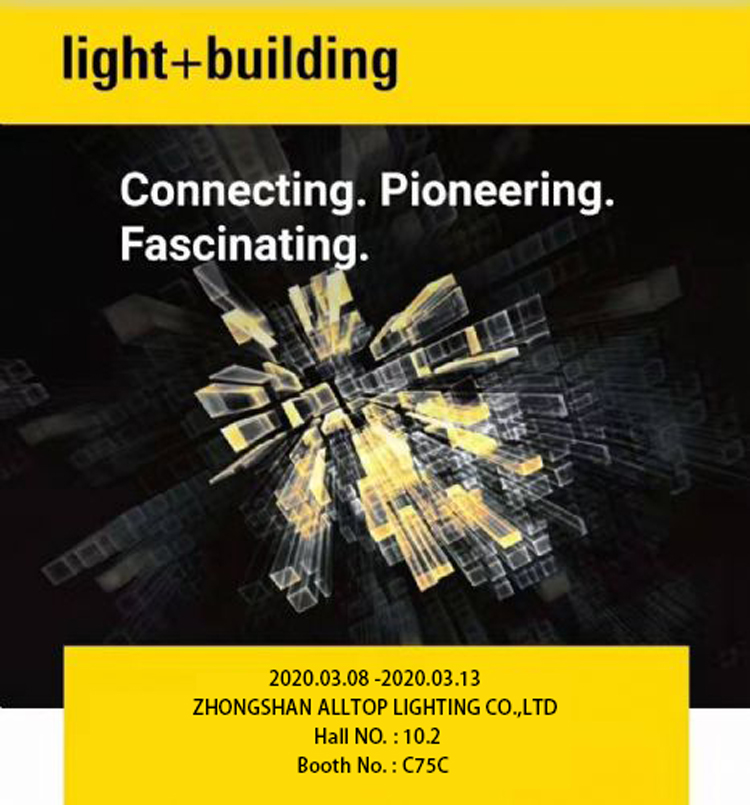 Exhibition Introduction:
1. The Frankfurt Lighting Fair in Germany is the world's largest lighting and building electrical exhibition. Since it was first held in 1999, the exhibition has rapidly developed into one of the most influential international exhibitions in the industry.
2. The successful concept of the Frankfurt Lighting Fair in Germany is based on the current development trend. It is comprehensive, strong, and future-oriented. For designers, planners and business people in the construction industry, the biennial Frankfurt Lighting Fair is the most important exhibition in the international professional field. From investors to architects, from senior engineers to planning engineers, process engineers and operators, from wholesalers to retailers, professionals in the lighting, electroplating technology, and housing and building automation industries worldwide are all German Attracted by the Frankfurt Lighting Fair.
3. Today, as the most important and largest exhibition in the professional field, the Frankfurt Lighting Fair in Germany has obtained leading trade associations from the German Electrical and Electronic Manufacturers Association, the German Machinery and Equipment Manufacturing Association, the German Sanitary, Heating and Air Conditioning Equipment Alliance, etc. Strong support. Here you will reach professional target customer groups such as senior engineers, company decision makers, wholesalers and retailers from all over the world, ensuring that you display your products on the highest-end platform, and more directly understand the latest trends and the most advanced Science and technology.
Range of exhibition:
1. Electric lights, outdoor lights, indoor lights, industrial lights, special purpose lights, interior design lighting, home and decorative lights;
2. Bulbs, electric lamps, discharge lamps, bulbs and accessories, LED technology;
3. Lighting control system, electronic tube, lighting system auxiliary engineering: building electrical installation and system technology, building electrical installation and connection technology, building information and communication technology, electrical detection system, building intelligence technology, building automation technology, ventilation and air conditioning Engineering, design, installation and control system, central control heating technology, building temperature control technology, building facility management technology, etc.
Exhibition Date: March 8-13, 2020
Exhibition cycle: every two years
Venue: Frankfurt Fair and Exbibition Centre
Exhibition area: 247,100 square meters
Exhibitor: 2,177
Professional audience: 183,111