1kw 1.5kw 2kw 3kw Wall-mounted Pure Sine Wave Inverter
1kw 1.5kw 2kw 3kw Wall-mounted Pure Sine Wave Inverter
daqn

guangdong

7-15 day

5000 pieces
The PV charge controller is a smart device which designed for off-grid PV power system. It has great running performance with LCD display and convenient operation. The controller also automatically control cell cut or connect ordinarily according to the change of battery voltage. The controller makes a full advantage of solar cell resource and also keep battery safe and reliable. The controller is mainly used for independent home PV system, telecommunications base stations, fishermen and herdsmen of electricity, as well as PV power supply in remote mountainous and border. To meet different power station's need, there are 24V, 48V, 96V, 120V, 192V, 220V, 240V and other normal series voltage level base on different battery voltage of off-grid PV power station system project.
Home use pure sine wave power inverter 5000w 12v 24v 48v dc to ac inverter
DC AC Pure Sine Wave Power Supply 1KW 1.5KW 2KW 3KW 4KW 5KW 6KW Inverter With Off Grid Solar Power System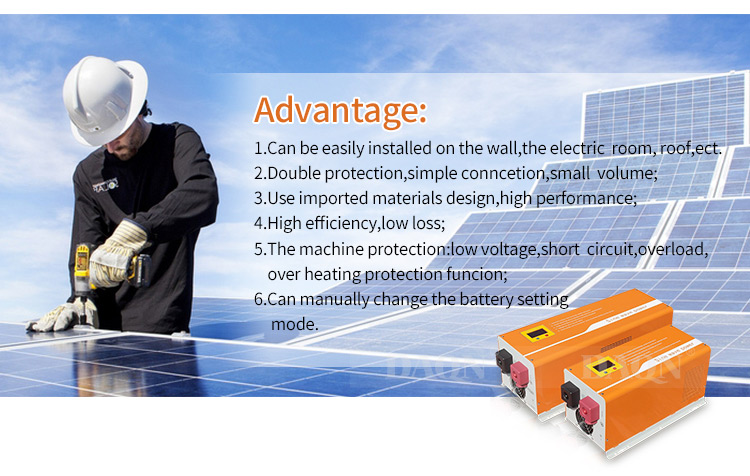 High frequency solar inverters system for 5KW solar energy system home
Battery overvoltage protection, battery undervoltage protection, overload protection, short circuit protection, overtemperature protection,etc
Model

DQ1600A

1K-01

DQ1600A

1K5-01

DQ1600A

2K-01

DQ1600B

3K-01

DQ1600B

4K-01

DQ1600B

5K-01

DQ1600B

6K-01

Rated power

1000W

1500W

2000W

3000W

4000W

5000W

6000W

Battery rate voltage

12V/24V/48VDC

24V/48VDC

48V/96VDC

Battery charge current

30A(default)-C0-C6

Equalization charge

14V/28V/56V/112V

Battery type

U0-U7

Input voltage

85-138VAC/170-275V

Input frequency

45-65HZ

Output voltage

110V/220VAC+-5%(inversion mode)

Frequency

50/60HZ+-1%(inversion mode)

Output waveform

Pure sine wave

Transfer time

<10ms(typical load)

Over load

110-120% 30S;>160% 300ms

Ambient temperature for storage

-15-+50℃

Operation/storage conditions

0-90%(no condensation)

External dimensions

480*222*182mm

655*248*182mm

Packing dimension

560*290*235mm

735*316*235mm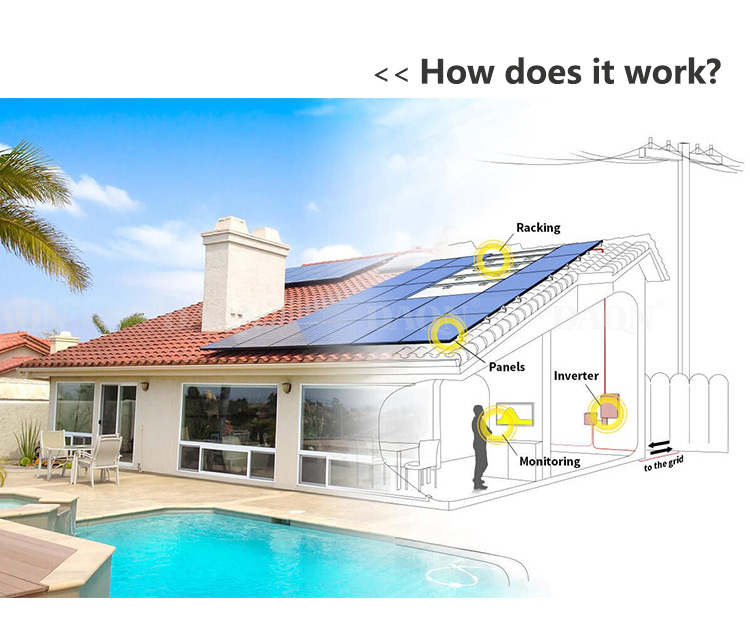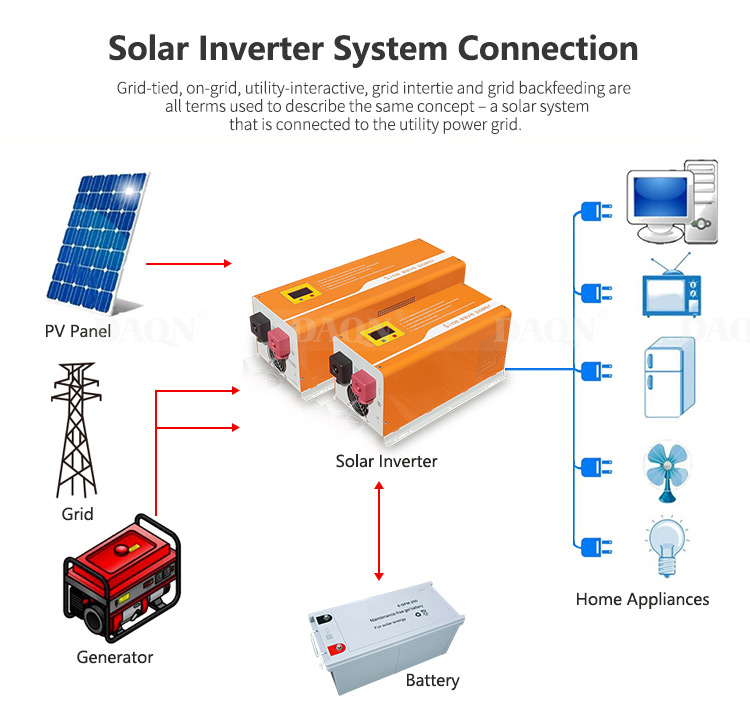 Main features:
1) Combine with solar power controller and inverter hybrid function.
2) Pure sine wave output for compatibility with loads of different types;
3) Visualization of operation status of the equipment through a digital LCD;
4) A wide range of input voltage, accurate output and full automatic voltage stabilization;
5) Settable battery type and charge current for the charge management of batteries of different types;
6) Settable mains supply preferred mode, energy – saving mode and battery preferred mode for easy meeting if the needs of different users;
7) Overall protection functions (battery overvoltage protection, battery under-voltage protection , overload protection , short circuit protection and over temperature protection).