Hot Sale Solar Charge Controller And Inverter 1kw
Hot Sale Solar Charge Controller And Inverter 1kw
ALLTOP

ZHONGSHAN

15 days

5000 Pieces
Hot Sale Solar Charge Controller And Inverter 1kw
pure sine wave, with MPPT charge controller built-in, off grid single phase model have power design 300w upto 10kw, only inverter without controller built-in model have power design 300w upto 30kw, for wind power system or solar system using.
Very suitable for African Market.
Hot Sale Solar Charge Controller And Inverter 1kw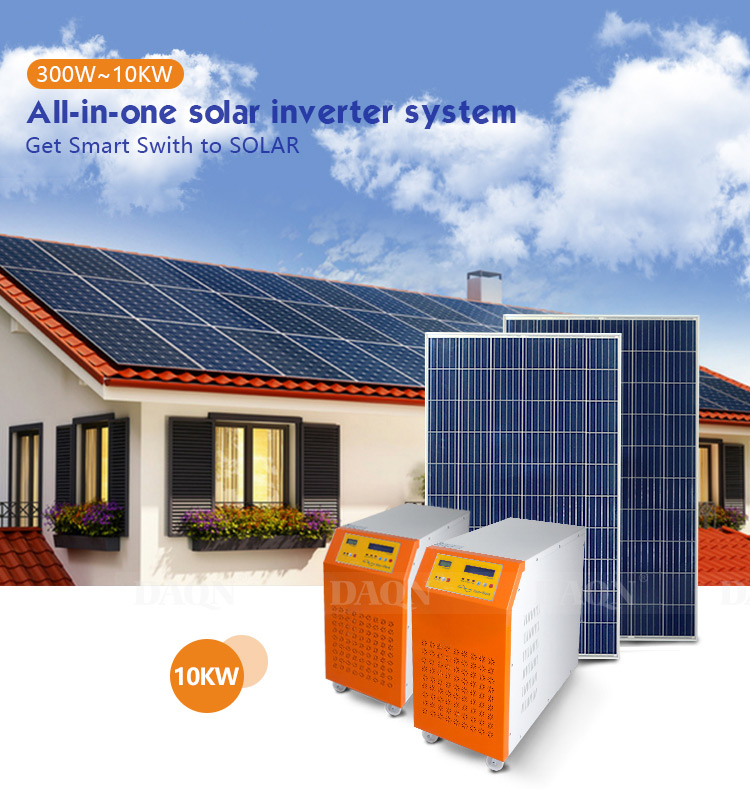 1. Combine with solar power controller and inverter hybrid function.
2. Completely controlled by CPU.output have 5V and 12V USB,can take LED light and mobile phone
3. Inverter use copper transformer, pure sine wave output.
4. LCD displays, clearly to know the status.
5. Have bypass function and AC charger (UPS function)
6. Perfect protection. Protect against anti-charge at night, battery over charger/over discharge, output short-circuit, against overload, against over-voltage, over-current protection ,etc.
7. City grid power and solar power complementary. When there are not sunshine and battery power used off ,inverter will charge from city power automatically to take the loads and charge battery ,keep the solar power system working 24 hours ,have switch "city power charge" and "solar power charge",you can change any time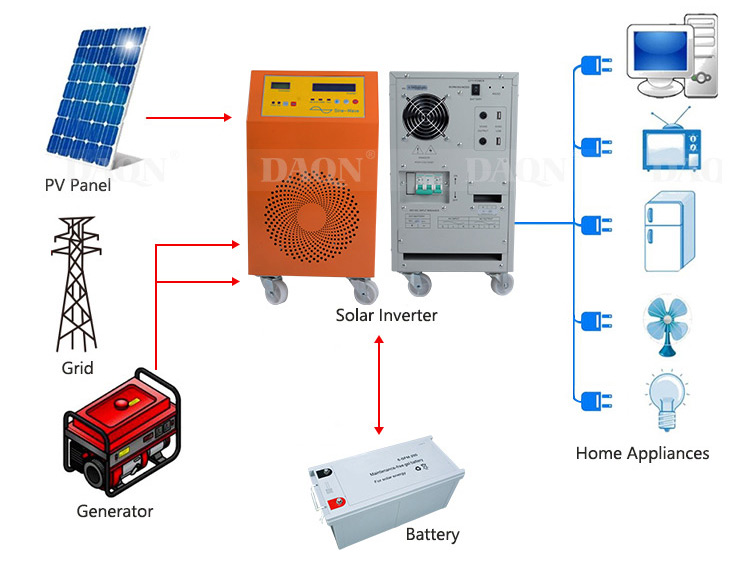 1. Living house and home building
2. Office building, factory and warehouse
3. Home lighting: rural area, islands where lack of electricity, backup power
4. Power station, field operation and some huge engineer construction.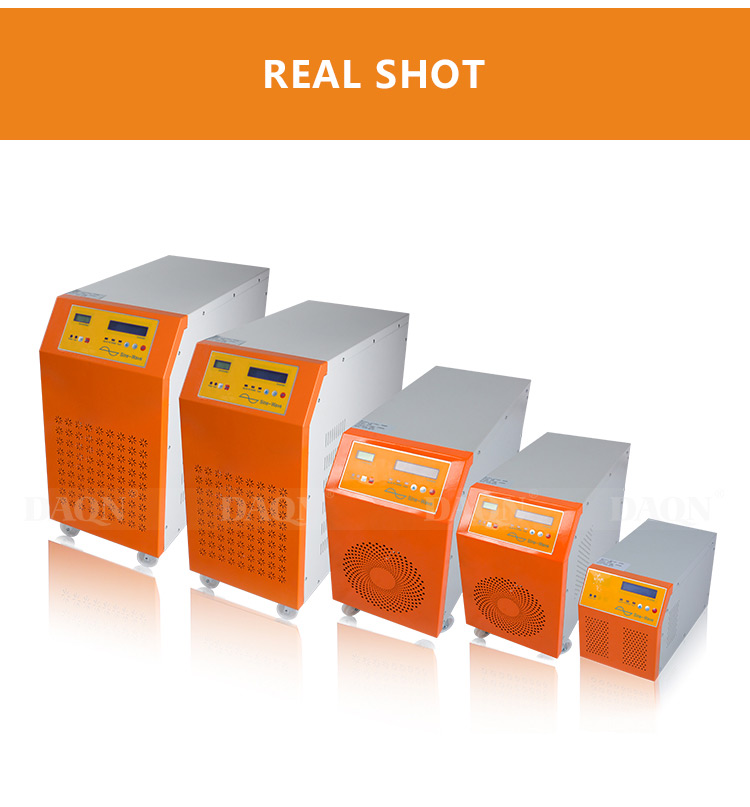 Model

DQ1100B1K-01

Rated power

1000w

Rated DC voltage(v)

24V/48V

Line input voltage(v)

165v-275/5-45A

Line charge current

5-15A

Inverter output

Output voltage(V)/Cuwent

220VAC±5%

Output frequency

50HZ/60HZ±1%

Wave form

Pure sine wave, THD <4%(Full load)

Solar input

Maximum voltage(V)

21v or 42v or 48v

Rated power(KWP)

1000

Solar controller

Charge current(A)

40/20

Control range

96v(80-120); 120v(100-160v)

Charging efficiency

90%-95%, peak on 97%




Over charge protecttive voltage of battery(v)

12v(14.3); 24v(28.6); 48v(57.2)

Over charge recover voltage of battery(v)

12v(13.7); 24v(27.4); 48v(54.8)

Inverter efficiency

90%(full load)

Inverter overload capacity

120% in 10 senconds

Others

Voltage drop between solar module and battery

≤0.3V

Voltage drop between loads and battery(v)

≤0.15V

Cooling fan

have

Environment humidity

0-90% Maximum, non-condensable

Proudct size:D*W*H(mm)

390*200*220

Packing size:D*W*H(mm)

470*280*300

N.W&G.W

14/16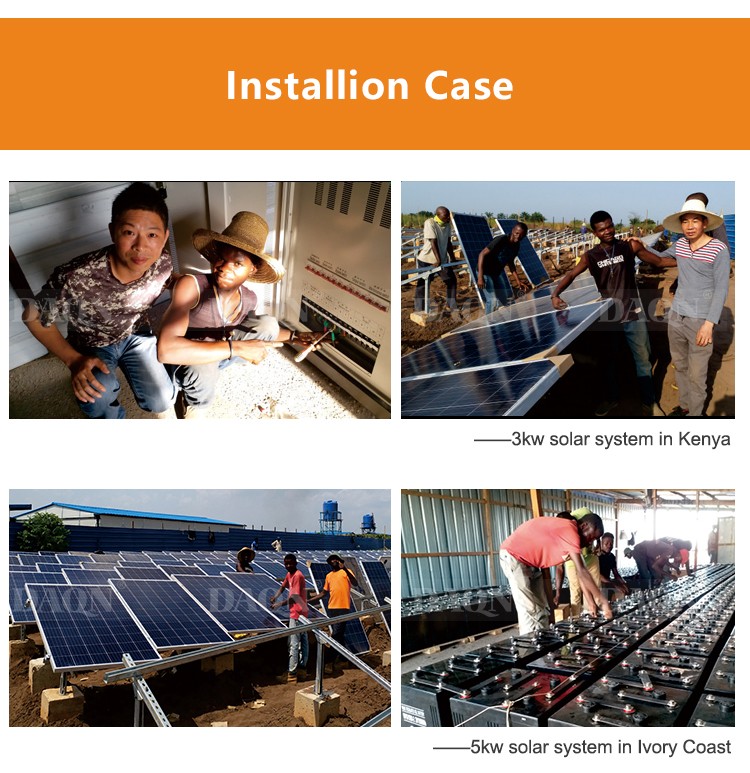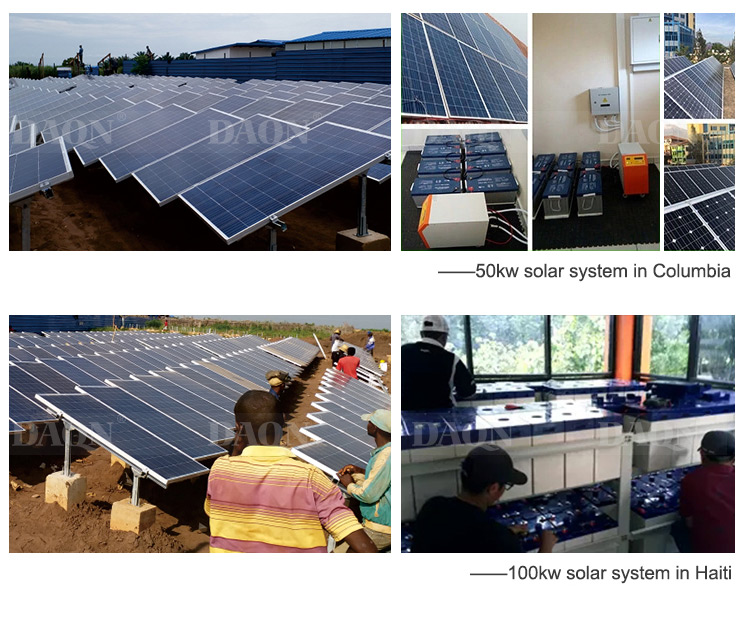 Warning
1.Please avoid direct eyes contact to prevent visual damage.
2.The charging and dismantling process must be carried out in a safe place.
3.Please keep this product in a safe and solid location.
4.Do not short-circuit, disassemble; do not put in the water or near the fire.
5.In the absence of professional and technical personnel, do not attempt to repair or replace the battery, the supplier shall not be responsible for any damage of the consequence of replacing or repairing the battery that not conducting by supplier.
Note
1. Charge under direct sunlight for 6 to 8 hours.
2. Turn on the switch, before install the lamp.
3. Please choose a position without any shelter for enough sunshine and fully exposure.
4. After turn on the light, first it will flash then light, which is normal.
Packaging advantage
Using package color inner boxes.
Attached installation manual.
Match installation screw and switch needle.
We use K=K strong white carton outer package.
Printing the product pictures on the boxes.