Low Price PV Combiner Box For Solar Panel
Low Price PV Combiner Box For Solar Panel
daqn

guangdong

7-15 day

5000
In the solar power system, in order to decrease the connecting line, easy maintenance, reduce losses, optimize system structure, improving the safety and reliability of items, the PV combiner box is usually in need between the solar panels and inverter.
Household high quality waterproof IP65 photovoltaic junction box off grid solar system combination box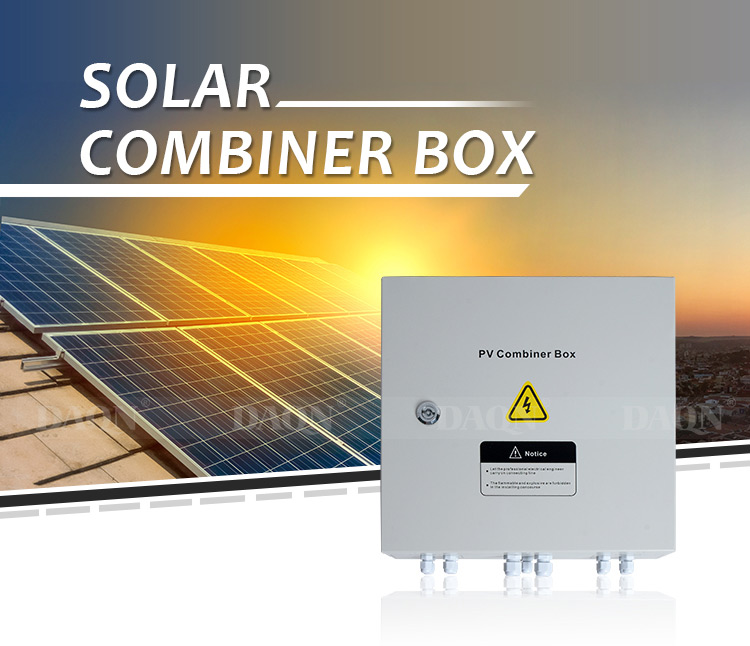 For grid-connected power generation system in large-scale PV power plants, it is necessary to add the DC combiner boxes device -PV array combiner boxes between PV arrays and PV inverters in order to lessen the connection cable between them, simplify maintenance and improve reliability.
Model
DQ1700A4-01
DQ1700A6-01
DQ1700B8-01
DQ1700D10-01
Input data


Number of PV inputs
4
6
8
10
Max sing PV array

current

10
Number of output
Output data
Maximum output current

1 or 2

Wire number of each PV input array
PG16.8mm for each
PG16.10

mm

for each

PG16.12

mm

for each

Maximum output voltage
800VDC
DC output circuit breaker
Have
Protection
IP65
Temperature
-30 to 60°C
Net/gross weight (kg)
5.3/9.3KG
8.4/12.9KG
9.5/14.3KG
10.8/15.6KG
Dimensions
360*340*145mm
400*420*145mm
Surge protection
470*450*255mm
530*510*255
Ground wire number
≥ 6mm2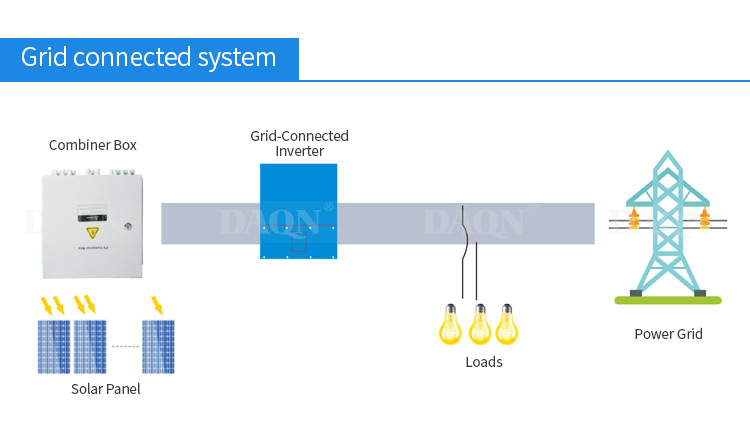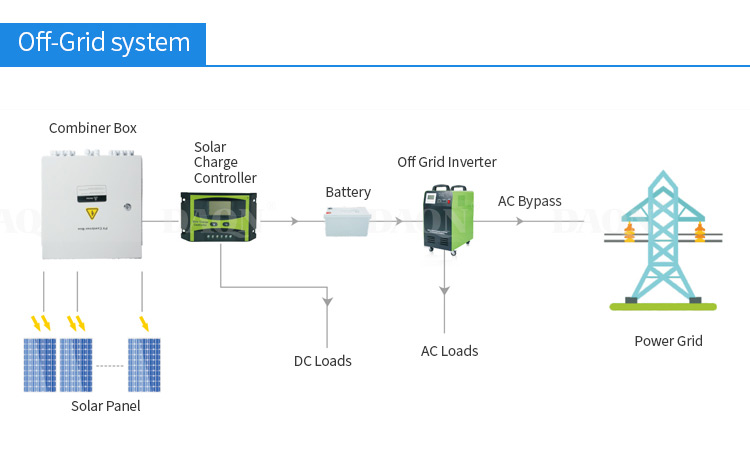 In order for convenient maintenance and reliability of PV system, we generally install PV combiner box between PV array and PV controller or inverter to reduce the connecting wires.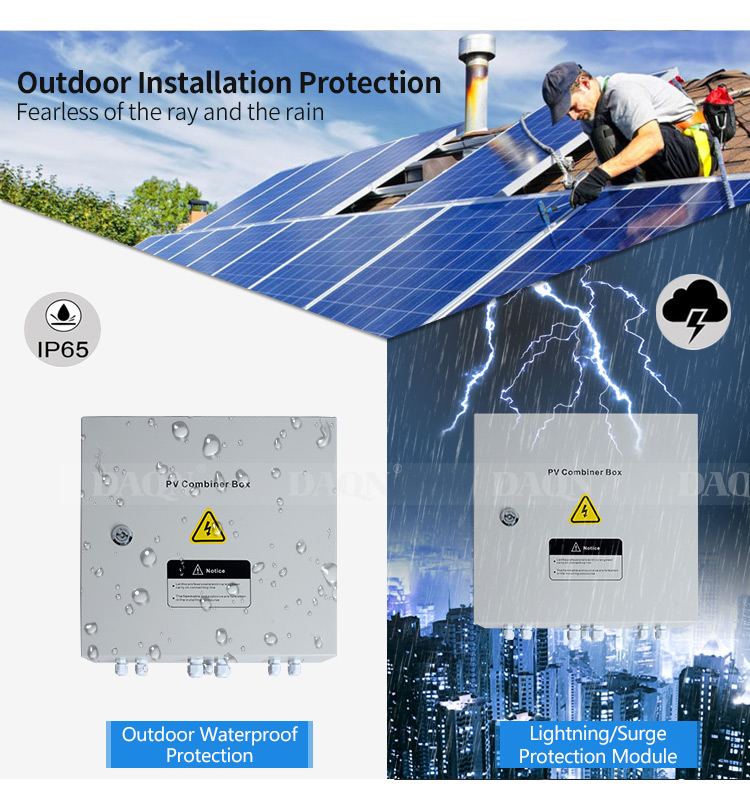 Features
1.Meet the need of indoor and outdoor installation
2.Maximum access 16 paths of PV tandem, rated current of each path is 15A
3.Wide range of DC input voltage, maximum input voltage up to 500/1000VDC
4.Dedicated fuse for PV
5.Dedicated high-voltage lightning device for PV, with lightning protection function for both positive pole and negative pole
6.Multiple machines can work in parallel
7.Easy and fast maintenance
8.Remote monitor (optional)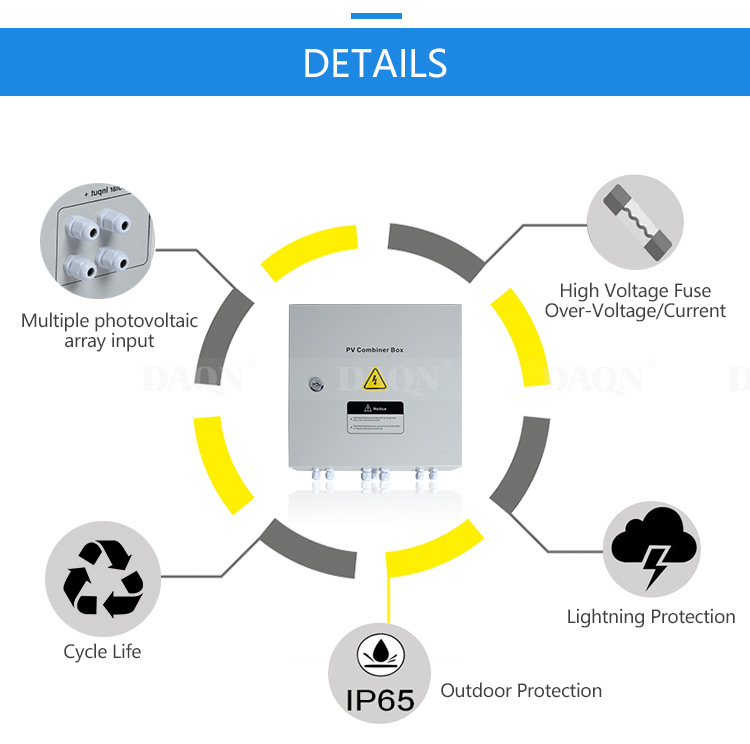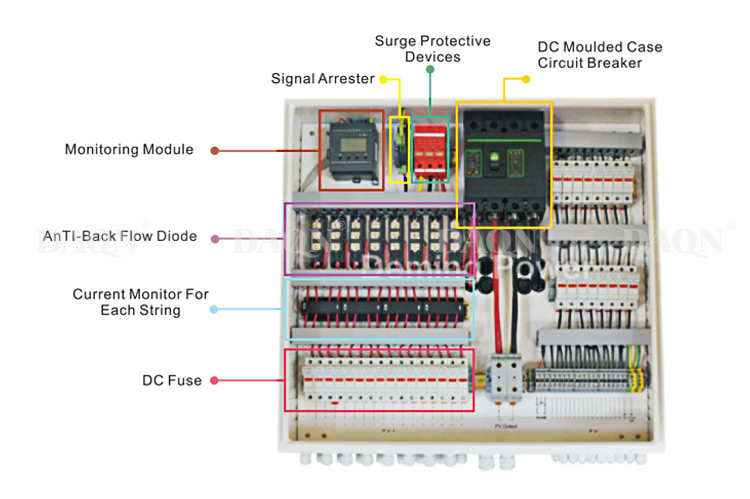 Welcome to consult Solar PV Combiner Box