Zhongshan ALLTOP Lighting Co., Ltd.
E-Mail:ftc@alltoplighting.com
TEL:+86 0760-87567563
Fax:+86 0760-87567569
Address:Fuqing Road 2,Yongxing Industrial Park,Henglan,Zhongshan,Guangdong,P.R.C
Charge controller with inverter
Charge controller with inverter
Model NO.: DQ1100E1K-01
Accept Min order:No
Product Description
High quality 10kw charge controller with inverter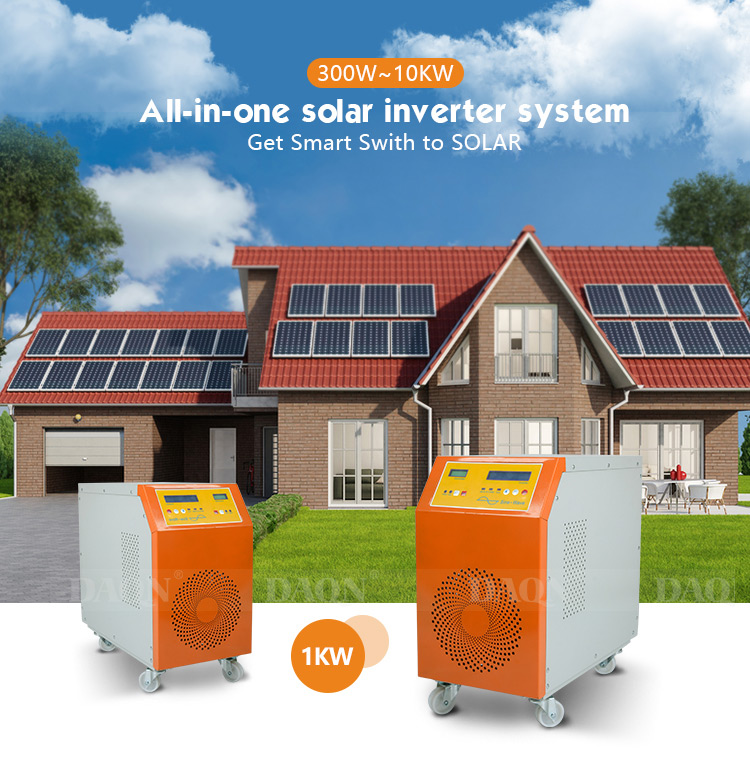 Model
DQ1100E1K-01
Rated power
10000w
Rated DC voltage(v)
96V/120V
Line input voltage(v)
165v-275/5-45A
Line charge current
5-15A
Inverter output
Output voltage(V)/Cuwent
220VAC±5%
Output frequency
50HZ/60HZ±1%
Wave form
Pure sine wave, THD <4%(Full load)
Solar input
Maximum voltage(V)
42v or 88v or 176v
Rated power(KWP)
10000
Solar controller
Charge current(A)
100A
Control range
96v(80-120); 120v(100-160v)
Charging efficiency
90%-95%, peak on 97%
Over charge protecttive voltage of battery(v)
96V(114); 120V(100-160V)
Over charge recover voltage of battery(v)
96v(109.6); 120v(137V)
Inverter efficiency
90%(full load)
Inverter overload capacity
120% in 10 senconds
Others
Voltage drop between solar module and battery
≤0.5V
Voltage drop between loads and battery(v)
≤0.25V
Cooling fan
have
Environment humidity
0-90% Maximum, non-condensable
Proudct size:D*W*H(mm)
535*280*680
Packing size:D*W*H(mm)
595*340*725
N.W&G.W
82/98

Multiple parameters in the same series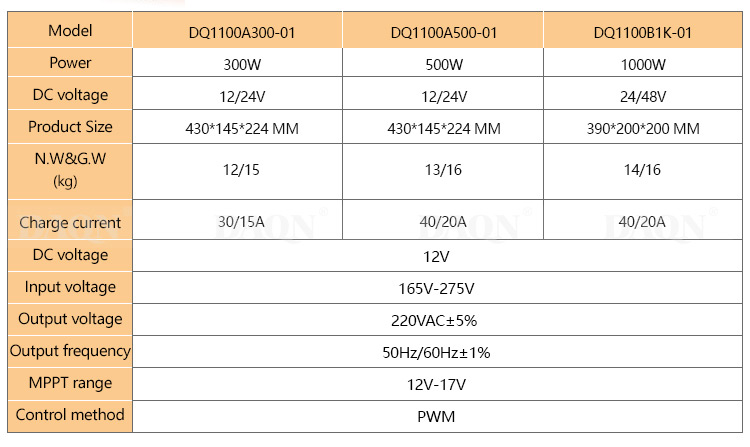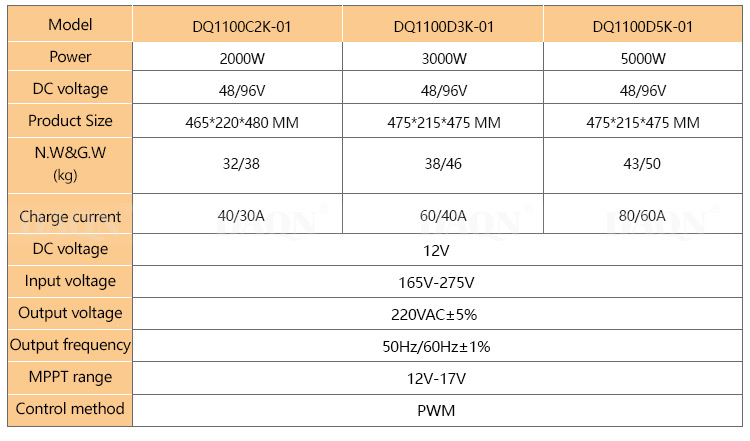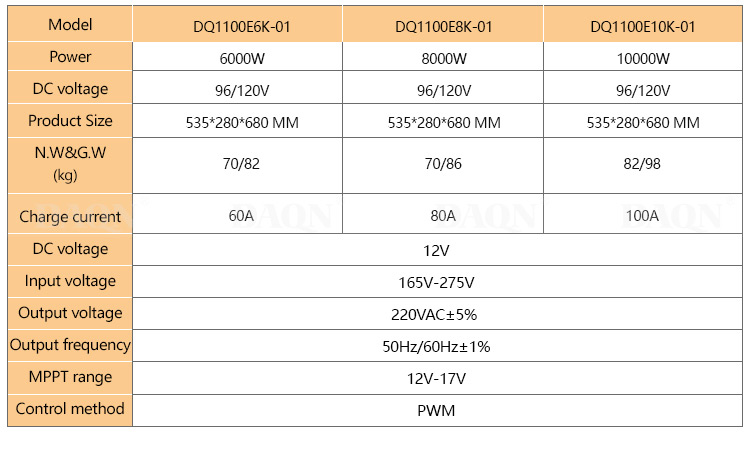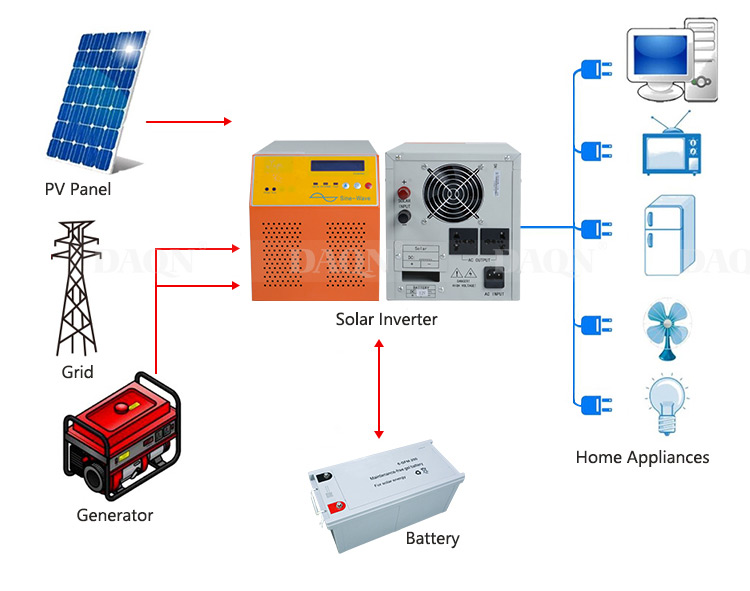 Is committed to the development of clean energy, the main products include photovoltaic solar off-grid inverter, photovoltaic solar controller,transformers and solar street light controller. These products are widely used in the fields of new energy, solar power station, fire, construction, industry, civil, finance, finance and taxation, electricity, medical, aviation, military automation and control system and national key project construction.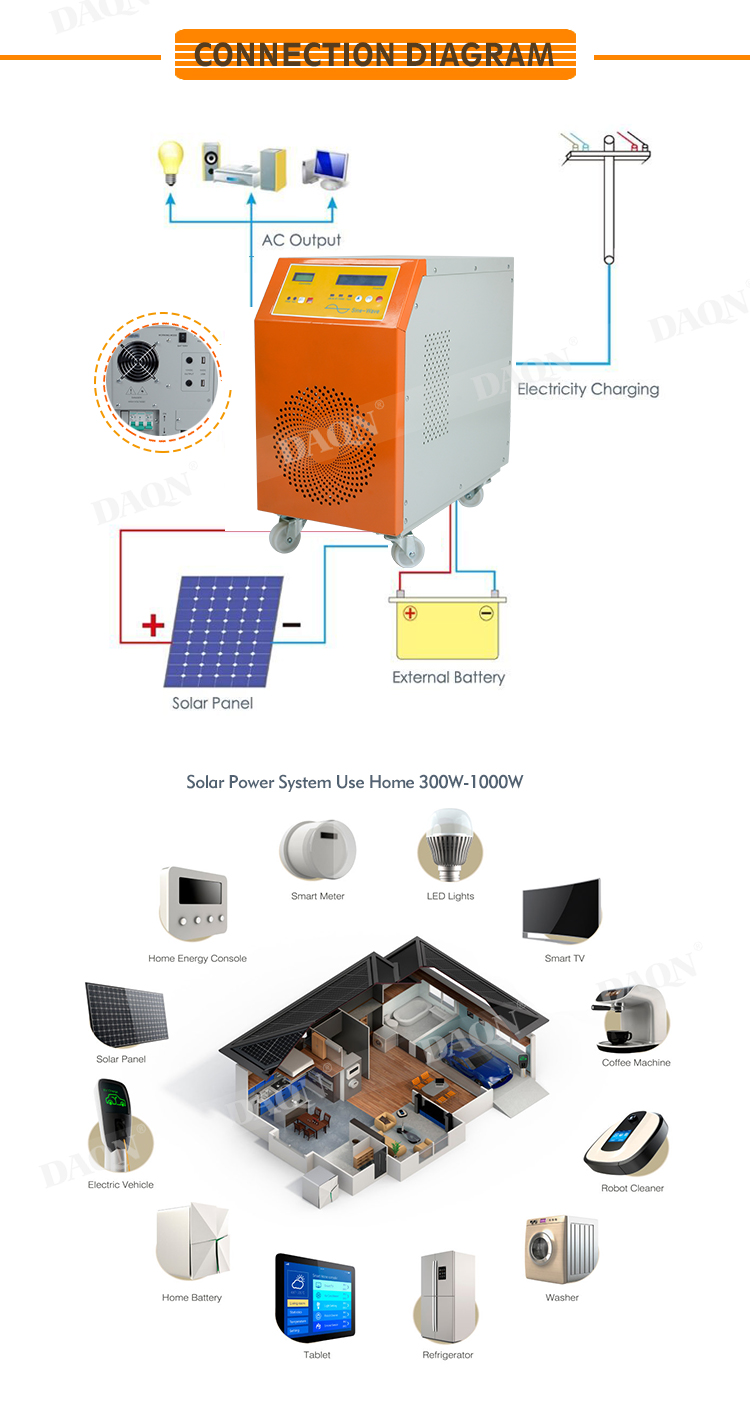 New solar inverter function:
1. 100% Full Power
2. Import MOS tube Power Material
3. Double Powered Protection
4. Dual temperature control Protection
5. Battery and city power priority switch
Very suitable for African Market.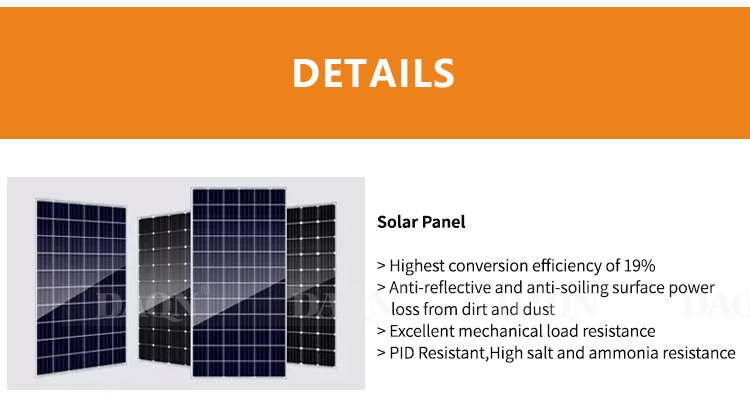 1. Living house and home building
2. Office building, factory and warehouse
3. Home lighting: rural area, islands where lack of electricity, backup power
4. Power station, field operation and some huge engineer construction.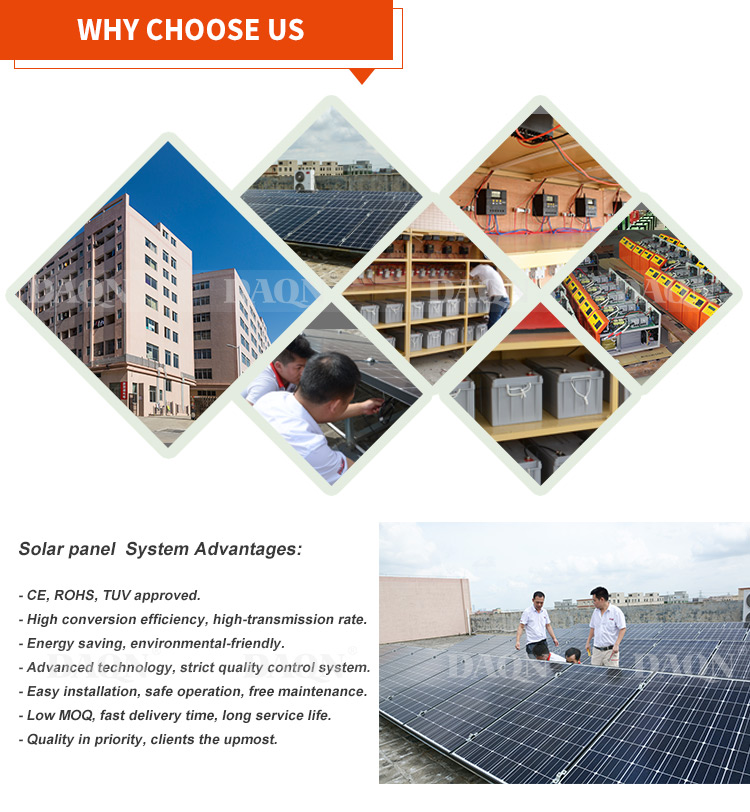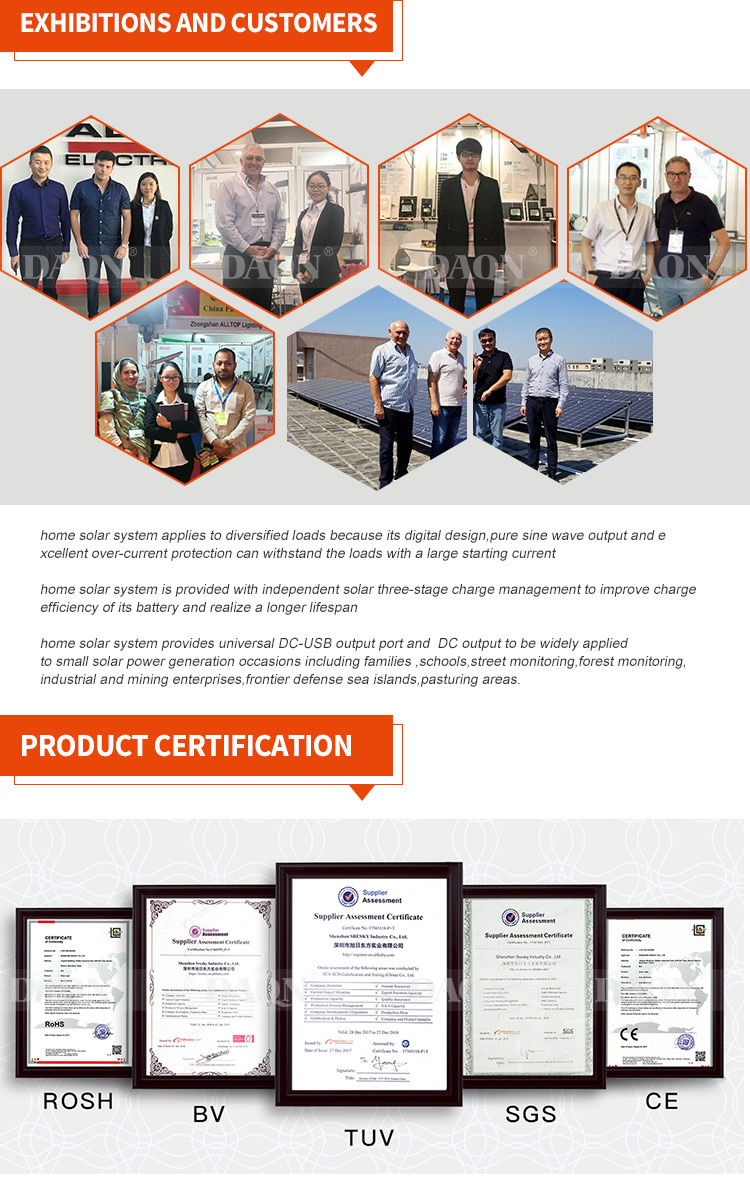 1.Please avoid direct eyes contact to prevent visual damage.
2.The charging and dismantling process must be carried out in a safe place.
3.Please keep this product in a safe and solid location.
4.Do not short-circuit, disassemble; do not put in the water or near the fire.
5.In the absence of professional and technical personnel, do not attempt to repair or replace the battery, the supplier shall not be responsible for any damage of the consequence of replacing or repairing the battery that not conducting by supplier.
Using package color inner boxes.
Attached installation manual.
Match installation screw and switch needle.
We use K=K strong white carton outer package.
Printing the product pictures on the boxes.